When is a Good Time to Prepare Your Label Business for Sale?
When is the best time to plant a tree? Ideally, ten years ago, as the saying goes. And today is the next best time. When is the best time to prepare your label converting business for a potential sale? The same answer, ideally ten years ago, but failing that, start preparing today!
A tree requires years to mature and grow to its full potential. A successful sale of a label converting business is no different. Planning for sale, analyzing, and preparing your label business is like a tree's water and sun regiment. You cannot rush the growth of a tree, and you cannot be ready for a sale overnight.


How to Prepare Your Label Business for Sale
The obvious focus in a business acquisition is on your business's current results (revenues, profits, etc.). However, the expectation of future results is just as vital.
Buyers want to know:
Is your business trending in a positive direction at a sustainable pace?

Will your business continue on this path without you being directly involved in day-to-day operations?

Proving Value Beyond Increasing Labor Numbers
A compelling and believable story about future earnings is where sale prices diverge widely. Current earnings do not alone predict future earnings. The acquirer wants to see that future earnings are predictable. And that future earnings do not require huge investments in labor to achieve. A label converting business that is growing top-line revenues with their only scale strategy being the addition of human labor is not as attractive as businesses that have figured out how to scale profitably.
Labor tends to multiply in the functional areas that are in front of the printing presses. Sales, customer service, prepress, and scheduling are functional areas where throwing more labor has been the scaling strategy for decades.
An acquirer wants to see that you can scale your business by relying more on processes than adding people. Process improvements allow you to handle more transactions with the same number of people. This impacts everything, including your current profitability. And it also is the main contributor to building a believable story around future earnings and growth.

What Many Label Converters Get Wrong
Today, many label converters are going in the wrong direction; prepress teams are doubling in size, CSR teams are hitting double digits, and scheduling departments are growing with each new press addition.
A buyer wants proof that revenues can continue to grow without a 1:1 increase in your team size. Process improvement will start you down the path of preparing for a future sale. Process improvement will also improve your results today.
There are three core things you should start today, no matter how far off you think a potential sale is in the future:
Process Definition
Leverage Technology to Improve Processes

Create a Culture of Improvement

Proving Process Definition
There are three fundamental processes you need to define:
RRNC (order process for re-run, no change)

RRWC (order process for re-rerun, with artwork change)

New (order process for new Custom Products)
Write down the end-to-end process for at least these three processes. Start small. Don't try and document everything. These are the basic processes that impact your core manufacturing process.
Get your team involved in documenting the processes, and do not worry about documenting every single exception. Just get the core processes down. Your job is to document at least 80% of your processes. Your staff will handle the expectations.
Leverage Technology to Improve Processes
As we cover in our guide, How To Modernize And Optimize Your Label Converting Business, there are key steps to improving your processes with technology, including investing in:


A self-service customer portal
A toolset for your customer service team to be more efficient
Prepress automation
Data-driven, automated scheduling
You cannot convince any buyer that your future earnings will be consistent and sustainable unless you leverage technology (mostly via software) to automate and accelerate your business. Email is not a scalable technology solution for order entry. A spreadsheet is not a scalable solution for press scheduling.
You have to invest in technology; then, you must invest in your people to get them competent at running the technology.
Your technology should run the business. And your people should run the technology. When you have achieved this, you'll be able to report to interested buyers that your people are 100% relying on technology as their trusted system of record. Gold.
When acquirers see technology as the integrated solution to process improvement, they see the proof that you can profitably scale the company.


Create a Culture of Improvement
Defining a process once and then essentially moving on does nothing to prepare your business for sale. Your core business processes are alive because your business is alive, and your business includes your people. You have to first and foremost enforce your processes.
Then, and just as critically, you have to create a process improvement culture, which requires reviewing processes regularly and iterating to continually improve. This step entails listening to your workers. The best people to provide process improvement feedback are the people working in the process daily.
Want to Learn More?
Catch our next webinar, Preparing Your Label Converting Business for Sale, Wednesday, June 15th, 8:00 AM PT / 11:00 AM ET where our expert panelists will discuss this issue.
Meet our panelists:
Brent Rippe, Partner at RKCA Investment Bankers
Rob Mayerson, President of Label Traxx
Brent will share insights on the sell-side, having advised on sales, including Innovative Labeling Solutions and Wizard Labels. Rob will discuss what label converters can do to prepare for a future transaction.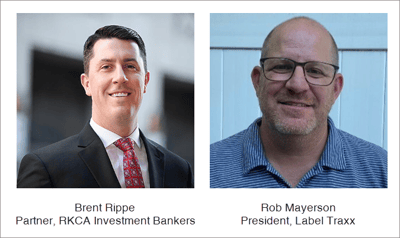 There is a lot to learn about how acquiring companies, especially private equity firms, approach acquisitions. Don't procrastinate preparing your business for sale even if it's not on your short-term radar. Investment bankers like Brent can help you see your business from the perspective of the acquiring companies. Preparing your label business for sale ideally starts years before the transaction.