Managing the Chaos of Short Run Digital Label Scheduling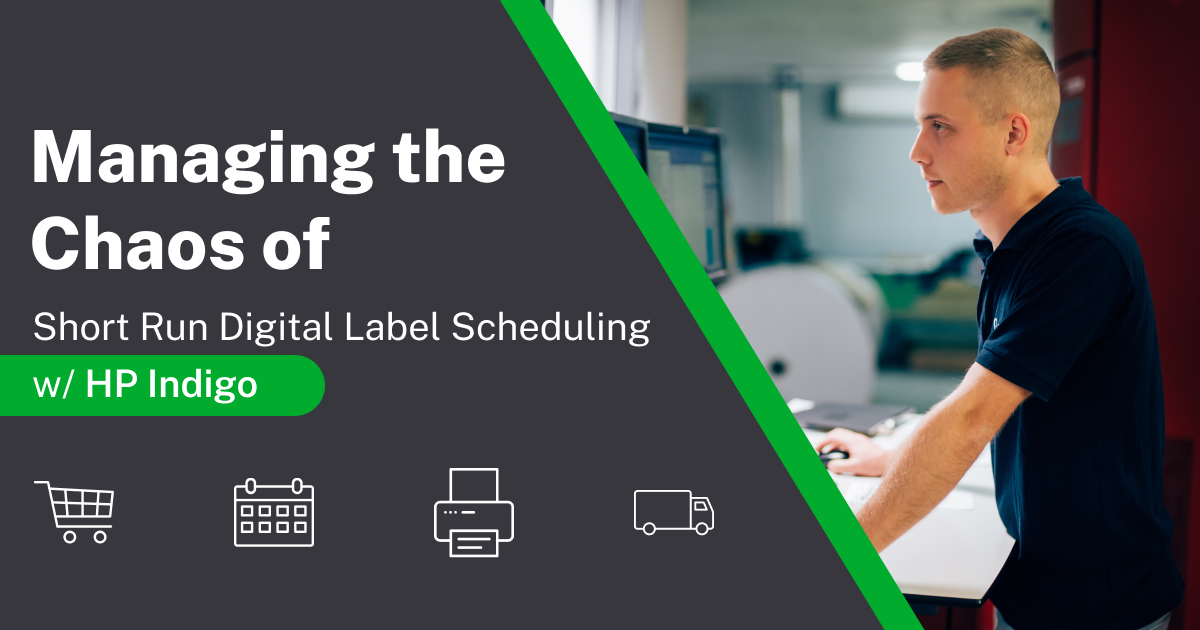 Modern digital label presses from HP Indigo, combined with business and production management software designed specifically for label converters, position label converting operations for more productivity, profitability, and competitive advantage.
By: Cary Sherburne
As with most segments of the printing industry, the label business is rapidly evolving, with customers demanding faster time to market; shorter, more frequent production runs; and more variability in content – all of this with no compromise in quality.
Historically, flexography has been the primary technology used for label production, and it has served the industry well. But as with all analog production technologies, flexography is not designed to profitably deliver against the growing customer demand for shorter runs and compressed schedules.
"If in the past, you had two flexo presses producing 15 jobs a day, planning and scheduling that work was not particularly complex," said Gershon Alon, Head of HP PrintOS at HP Indigo. "Introducing digital printing to the mix enables operators to direct smaller jobs, or those with faster delivery times and/or more variability to the digital press, leaving the longer run work on flexo. Not only does this help you better address evolving customer needs and remain competitive, but it also makes your flexo presses more productive, reduces waste of costly materials, and does all of that with no compromise to quality."
Alon points out that shifting a production platform, for example, from two flexo presses to one flexo press and two digital label presses not only helps improve productivity and reduce waste, but it also introduces a different complexity, adding, "If you were producing 15 jobs per day or less in an analog environment, but now are producing as many as 80 to 100 jobs per day with a combination of analog and digital presses, planning and scheduling become a new bottleneck. Throwing more people at the tasks is not the solution, especially with the current shortage of skilled staff; rather, introducing label-specific production and management software is the answer. And planning and scheduling work needs to span both printing AND finishing processes."
That's why, according to Alon, the company has been partnering with Label Traxx for nearly 18 years. "We believe Label Traxx is one of the top label-specific Print MIS/ERP solutions in the world, and likely the leading solution in North America," he adds. "With the recent additions of the Siteline web-to-print solution and the Batched automated scheduling solution to the Label Traxx product suite, you now have an end-to-end solution that can be integrated with other modules, such as finance, prepress, digital front ends, and finishing processes, but also provides a seamless workflow from RFQ through planning, scheduling, printing and finishing. The integration of these modules makes the overall solution stronger, positioning converting operations to profitably deliver against even the most stringent customer requirements."
Alon notes, "In addition to the ability to address the most critical bottlenecks in the label converting process, this solution, combined with HP Indigo label presses and bidirectional access to HP PrintOS, is even more critical in light of the increased industry consolidation. Where a label converting operation may have had one location with a couple presses, increasingly consolidators are acquiring multiple label converting operations to create a broader footprint and to scale their businesses. The result can often be multiple locations, each with its own business and production software infrastructure. As these consolidations mature, they will be looking for a solution that enables effective management of multiple sites with a variety of equipment through a single interface. The broader-based approach being taken by Label Traxx is a brilliant answer to these challenges."
Matt Murphy, part of the founding Batched team, concludes, "With short run jobs running in succession, the margin for error becomes smaller, and the benefit of optimizing schedules becomes increasingly critical. If you can effectively schedule small jobs together at scale, then you can confidently expect to expand the margins. For example, running one machine with 10 jobs a day can be managed effectively by most human schedulers. But when you evolve to multiple machines with dozens or hundreds of jobs a day, the complexity exceeds the capability of the human to process that information fast enough to make the right decision. And scheduling with a human prevents true optimization in that complex environment. Rather, we want the scheduler to focus on managing exceptions within the schedule rather than the schedule itself. That was a key driver behind the development of Batched, and the main reason we have chosen to partner with Label Traxx."
Exploring the Details
Each component of the infrastructure for a modern and competitive label converting operation has unique sets of capabilities to contribute.
Label Traxx is a self-hosted Print MIS solution built specifically for narrow web flexo and digital label printers. Label converters license the software customized with optional modules to fit their specific needs. Consider this your core database and set of workflows. Your trusted system of record to run your business.
Siteline gives your CSR team a tool to help them accomplish more in less time with greater customer satisfaction. Siteline enables brand customers to directly participate in your workflow (order status, order history, reorder) in a self-service fashion, from any connected device.
Batched is a capacity planning and scheduling tool that allows label converting operations to thrive under the stressful supply chain challenges most companies are facing today. Batched automatically creates an optimized schedule and then lets you manually adjust it for exceptions.
HP Indigo offers the industry's broadest and most functional array of digital label presses, ranging from narrow web presses such as the Indigo 6K and 8K digital presses, producing at up to 40 and 80 meters per minute respectively, to the HP Indigo 25K, a wide web solution for both labels and flexible packaging, operating at 40 meters per minute on a 74 cm width. All of these presses support up to seven ink colors including white. HP Indigo is in the process of bringing to market the HP Indigo V12, currently in beta, operating at a blazing 120 meters per minute with the option of up to 12 colors, a truly groundbreaking digital label printing solution.
Alon notes that in this combination of hardware and software, there is virtually no overlap, and all modules work together seamlessly, along with other modules such as prepress and accounting. He also points out that Label Traxx is integrated directly with HP PrintOS, offering additional value, including the ability to compare estimates with actuals, job by job, shift by shift, and press by press. This provides managers with the ability to troubleshoot significant differences between estimate and actual, whether it means adjusting estimates or improving processes on the production floor.
Looking Ahead
In today's fast-paced, highly competitive, yet growing, label market, having the right combination of hardware, software and professional services support is critical to success. As explained here, that includes an integrated workflow from RFQ through creating a job, prepress, printing and finishing in the most efficient and automated process possible.
The scenarios described offer label converters with best practices allowing them to assess their current state and determine whether adopting a solution can improve their businesses and prospects for accelerated success. We think the answer is almost always going to be "yes."
Want to learn more about managing the chaos of short run digital label scheduling?
Register for the webinar, featuring Label Traxx and HP Indigo — scheduled for Wednesday, February 22nd, 2023.