Is Your Workflow a Local or an Express Train?
Ahead of our Wednesday, May 4 Webinar demonstrating how to manage your label business from order entry through prepress automation, this post delves into how workflows in label businesses are managed vs. just how efficient and powerful they could be running.

On Track with Slow Workflows?
A label product is like a passenger; the job is the train, and the tracks are your workflow. Some printers are operating local trains - the label product stops a lot and requires lots of 'manual service' at each station in the form of your labor spending time and effort.
Some printers operate express trains; there are very few stops, and when the stops have to happen, they are swift and often automated.
Everyone wins when you incrementally move from a local train to an express train. And although you can't press a magic button and switch from local to express, you can make incremental changes that chip away at the number of stops and manual steps at each station. It is possible to work your way to speedier travel that results in speedier cash flows and happier customers.


First Steps - Getting the Label Product Requirements
Let's start with the requirements for a label product to even "get a ticket on the train". Just like you can't board a train without a ticket, you cannot put a job on press without the requirements. Getting those "valid tickets" for label products falls primarily on your customer service team, with help from prepress and sales. Label products require approved artwork, pricing/estimates, and order acknowledgment to board the train. Your customer service team spends every day chasing down these requirements so they can get the labels on the train!
Most of this chasing happens over email and via phone calls. It's old school. Remember when you called the airlines to book a plane ticket? This type of follow up is labor intensive and burdensome for both the printer and the customer who is desperately trying to get their printed labels back into their supply chain to meet product demand.


Accurate Data
Accurate information is what makes the whole process go faster. Accurate information relies on respect for what we like to refer to as "the system of record". In the journey of a label product, the system of record for the product itself and the job ticket is Label Traxx (your Print MIS/ERP). And the system of record for the art (let's call this the photo on the ticket to ID the product) should be your prepress automation system (e.g. Hybrid/Esko).
Your workflow should respect the system(s) of record. In other words, it should utilize the data from those systems of record without any human intervention. The custom product number should be stored in Label Traxx and only "subscribed to" in other systems. The artwork file should be stored in Hybrid/Esko and only "subscribed to" or referenced in other systems.


"Artwork is obviously a critical ingredient to the label manufacturing process; the correct artwork, associated with the correct Label Traxx custom product, riding on the correct Label Traxx Job Ticket is the outcome of Hybrid's CLOUDFLOW deep integration with Label Traxx."
- Peter Kincaid, Vice President, Hybrid Software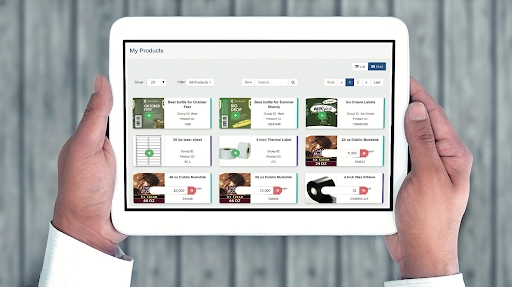 Customer Interface
In addition to accurate data, you have to strategically involve the customer in your workflow. Your customers don't know what you know about labels and packaging. Your customers require a different interface to interact so they can do ONLY what they are qualified to do.
Think of the customer interface as the self-service ticket purchasing system - an interface where they can buy train tickets, check the status of trains (jobs in progress), and proof and approve artwork so they meet the qualifications for purchasing a ticket.
Your customers should only have to go to one place online to provide requirements. This should be as user-friendly and as simple as possible. Don't burden your customers with multiple systems; one for artwork proofing, one for secure online payment of invoices, and one for checking order status.
There should be only one destination for all their engagement with you. One destination that respects the "system of record" so that data is always accurate. Siteline for Label Traxx is that destination.
A customer proofing artwork is not simply proofing an image file. They are proofing the specifications of the label. A proofing event is a beautiful combination of the label (passenger), with all their prerequisites for travel (artwork, estimate/pricing, order specifications), and the Job Ticket (train/itinerary).
With Siteline for Label Traxx, your customer accesses a mobile-optimized experience of product, artwork, and ticket reference in one place, which allows them to be an active participant in your workflow.


Customers Need to Interact With Your Workflows
If you're running a local train - you have expensive labor interacting in your workflow on behalf of the customer. Your customer service team sends emails and has phone calls all day and then translates those into products, estimates, and tickets. Stop using labor to compensate for the fact that you're not allowing your customer to interact in your workflow directly.
When you invest in Label Traxx, Hybrid, and Siteline like The Label Shoppe recently did, you invest in the transition from local train to express train. You are investing in giving your customers access to participate directly in your workflow. You will deliver jobs to scheduling faster.
"We invested in Siteline and Hybrid to remove steps in our workflow and decrease the number of manual touches. Now with Siteline's Artwork Approval we are getting customers more and more involved as direct participants in our workflow."
Ryan Gaytan, CEO, The Label Shoppe
Save Valuable Time
The beginning of your workflow where requirements to get on board the train is where days and weeks are consumed/wasted in calendar time.
Ask yourself:
What would your business look like if the entire carpeted area of your plant operated on an express train?
How much more flexibility would that provide you in scheduling optimization?

Check out Batched scheduling for Label Traxx to see what happens when Siteline Artwork Approval unlocks the bottleneck and Batched can do its thing!

Upcoming Webinar: See How It All Works!
Do you want to get jobs ready for press scheduling SEVERAL DAYS faster? Join us for a lively discussion and demonstration of what end-to-end integration looks like! Hear from Siteline, The Label Shoppe, and Hybrid Solutions experts who share real-world applications.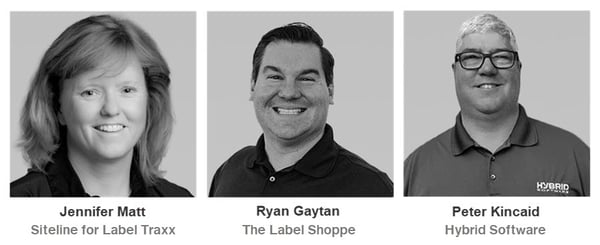 In our webinar you will learn about:
Customer order entry and artwork proofing (Siteline for Label Traxx)
Prepress automation (Hybrid CloudFlow)
Job Ticketing/Job Control (Label Traxx)
Do not miss out on the discussion and come with questions for live Q&A!